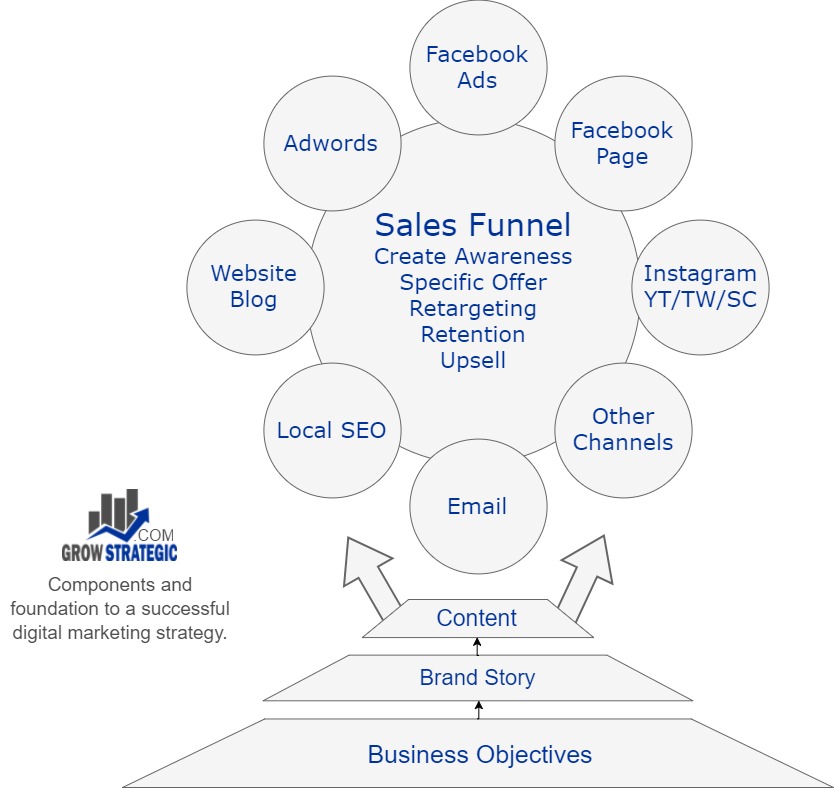 Are you looking for a proven blueprint to cut through the noise and give yourself an actionable, clear plan that tells you exactly where to put your focus to build your business online?
The following is a top level view of the critical components behind our clients' success in growing their businesses.
Define Your Business Objectives
It's actually surprising how many business owners don't have clear, thought-out goals for their business. It's difficult to execute any strategy if you don't know exactly what you are aiming to achieve. If your digital marketing isn't clearly connected to your business goals with specific metrics and time-bound goals, then it's not possible to build an effective plan.
A few key metrics you need to have nailed down:
How much additional revenue or profit do you want to generate per month? Make an overall goal and then determine which products, services customer types will generate that profit. This doesn't necessarily mean you're launching several objectives at once, it just means you are crystal clear on each objective before you launch a strategy to obtain it.
Define the value of your target customer. What is the average revenue produced and what is your profit margin? It's good to understand both the initial and the long-term value of a customer.
What are you able and willing to spend to acquire each targeted customer? Also known as Cost Per Acquisition (CPA). This will vary depending on the goal. Is it to build a customer base? Or momentum for a product? Is it to grow and maximize profitability of an already established product?
There are overall business objectives, and then there are strategy-specific objectives. The key is making sure each part of your digital strategy clearly supports your primary business objectives.
Create Your Brand Story
There are as many definitions for what a brand is, as there are strategies to develop a brand. For purposes of building an effective digital marketing strategy, a brand is the story behind your business.
Your 'brand story' demonstrates your company's values and tells prospective customers what kind of experience they can expect. It should provoke specific feelings that your customers will have when doing business with you.
Put your story in writing (and video!) and include it on your website's about page. It will be the guiding theme for status updates, web copy and ad creatives. Before every piece of content is created or shared, the question of how it supports your brand story should be clearly answered.
Content that tells a consistent story allows your business brand to become recognizable to your target market.
Here's a classic example- Bob Evans. They captured their brand powerfully in this 30-second video.
Overlooking this step is a costly mistake that many small businesses make. Spend some time putting your brand story together, it will clarify many things for your business.
Develop Content
We often see companies with content that is all over the place without a consistent theme or purpose. The brand story will act as your creative springboard and guide for most content.
Social media status updates
Images and graphics
Articles/blog Posts
Videos
Curated social media shares
Website copy
Ad creatives
Need to grow by at least
$20K

per month? Book a FREE strategy call!
Traffic Generation
So now that the foundation of business objectives, brand story and content is covered, it's time to get traffic so people will actually see your content. Here are the 8 core traffic strategies we employ for clients.
Facebook Advertising.

Paid traffic is the fastest, most reliable way to generate consistent business and to scale a business. The audience building capabilities of Facebook ads is unprecedented. However it does take time to properly build an audience and optimize different types of campaigns on Facebook.

Facebook Page.

Having a properly optimized and active Facebook page helps generate organic traffic and maintain customer relationships. Your page works in tandem with ads to build and maintain an audience.

Instagram.

Owned by Facebook, it's now the #2 social media platform and a huge opportunity for business. Instagram allows companies to exhibit themselves in a unique way and can be valuable organic exposure to a different segment of audience.

Youtube/Twitter/Snapchat/Pinterest/Linkedin. We may end up digging deep into any of these secondary channels if we see an audience opportunity for your market. But to go after all of them, especially at once, just doesn't make sense for most small businesses.

Other Channels.

This encompasses a broad box of traffic generation strategies such as banner ads, newsletter ads and display ads on services such as Pandora. These opportunities vary depending on your market and goals and can be powerful traffic sources.

Email.

Email is one of the core assets and integral piece of an online strategy. Newsletters, promotions and campaign follow up to a list of emails that you actually own is vital. Well planned, written and executed email will substantially increase your rate of conversions and life-time customer value.

Local SEO.

Does your business show up at the top of map results and search results? This is 'free' traffic, but it takes some work to get there. Establishing a strong organic search presence is worth the investment. Directory listings, social media, review sites and quality web content are each important in a successful SEO strategy.

Website/Blog.

Your main business website is one of two assets out of all these strategies that you actually own, your email list being the other. Don't lose sight of that fact in all the glitz of social media. At the end of the day you don't own any one of those social or ad platforms. But if you have a strong website, and an well-targeted email list, you will survive and thrive as platforms come and go.

Adwords.

Google's ad platform is still the giant of online paid traffic. Capturing the targeted traffic of buyers in google search makes for a powerful 1-2 punch with Facebook ads in some cases. That being said, once you get a thriving Facebook ad strategy in place you start to see less need for Adwords because most of that traffic is also on Facebook and where you can capture for lower CPA's.
Sales Funnel
Now that we have traffic, what on Earth are we going to do with it? Well, if you're like a lot of do-it-yourself business owners, you send it to your main website. In most cases this is a big mistake that costs businesses a lot of time, growth and money.
The goal of your traffic efforts should always be to illicit some type of action. That action will depend on what stage of exposure you are at with the traffic. ​The point of a sales funnel is to segment your traffic into those people who are likely to buy your product. Then you can put together specific campaigns to:
Create Awareness
Build Credibility and Trust
Be considered as solution
Buy
Upgrade
Buy something else...
You get the idea 🙂
The mistake most businesses make with their promotion is they go straight after the 'buy' objective. Even if your targeting is on and your creative is compelling, your audience might not be ready to buy. In fact you can bet that most are not. So instead of going straight for a sale or lead as a call to action, it will be better to start with an awareness campaign.
This will allow you to build an audience that you can then re-target or re-market to through the use of pixels or email.
Sales funnels will vary depending on the product and campaign objectives. However in most cases you will not want to send traffic to your main website. Every advertisement and post should be directed to an optimized landing page with a clear call to action. It might be an email sign up, a download or a purchase. ​
In addition to a landing page, you will usually have a thank you page. In an ecommerce funnel, it could be a page built to sell a specific product to a specific audience, with a free cheat sheet for achieving something related to the product, then the next page is the actual product purchase page.
With proper use of the tracking pixel, you can then re-target people who engaged with your ads and visited your landing pages​. You would not do this with the same ad, but with a different set of ads designed for the 'middle of your funnel' and 'bottom of your funnel'.
The possibilities are endless for sales funnels. That being said, we find that generally the more simple you keep it, the better- especially in the beginning.
Putting it all together
As you likely have gathered at this point, there is a lot to consider in putting together an effective digital marketing strategy. If you try to get too many traffic sources and sales funnels going at one time, you can get stuck, delay your results and never fully realize the potential of any strategy.
What's important is to start with the foundation. From there, get your local SEO and website in place. Next, focus on 1 or 2 social media channels and 1 digital advertising channel with a sales funnel for your top priority growth product. Test and optimize until you establish consistent, profitable traffic. Then, you can expand and add sales funnels and traffic strategies from there. This is a proven approach to go from no online presence at all to one that will build your business empire for years to come!
Need to grow by at least
$20K

per month? Book a FREE strategy call!
​